'Over-Tourism' And High-Speed Travel Among 2018 Trends, Andrew M. Berke Says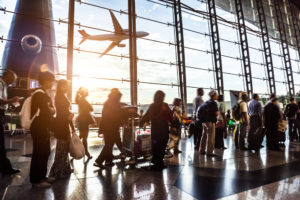 Many travel industry changes are afoot (or should we say up in the air?) and 2018 could prove to be filled with interesting developments that benefit consumers. From the way we book flights to the destinations we seek out, it looks like the industry could see plenty of shake-ups in the coming months and travel guide expert Andrew M. Berke is here to offer insider insight into these expectations. According to a Jan. 4, 2018 USA Today article, which Mr. Berke read with great interest, the topics of "over-tourism," direct buying and tech sector advances such as net neutrality and modes of transportation are all on the horizon. Andrew M. Berke, who has spent much time guiding travelers toward smarter vacations, is here to weigh in on these topics and more. If you plan on getting out of town for any extended period of time, it may pay to pay attention.
The most interesting aspect of travel in 2018 and beyond is over-tourism. The regular and massive influx of outsiders to places with infrastructure that can barely handle them is problematic. According to the USA Today article, the problem is evident in places like Venice, Italy where it's nearly impossible to escape pedestrian congestion. Among the solutions proposed by the article is to push for off-season visits or encourage trips to nearby cities with the same culture — but fewer visitors. Similar news reports indicate that residents of Amsterdam in the Netherlands are pushing back against the influx, with local government taking steps to limit tourist-oriented stores in the downtown sector.
Another aspect of interest to travel guide expert Andrew M. Berke is the fact that airlines want to nudge flyers toward their own websites instead of Expedia or Priceline. The reason being is this: Airlines have to pay a fee to these middlemen when a flight is booked through their sites. What's more, the article notes that airlines are "fighting" regulations that would force them to provide more information to these booking sites about additional fees such as baggage and seating. How the chips may fall in this scenario is anyone's guess, says Andrew M. Berke.
Finally, the report addresses the issue of technology. USA Today is rather blunt about the topic of net neutrality, stating that nobody is really certain on how the changing of the playing field is going to affect the way consumers find and book travel methods and other accommodations. As for the so-called "hyperloop" high-speed travel option through resistance-free tubes, the report is encouraged by "some big names" that are "backing some serious proposals for a tube tunnel-based transportation system that they claim can beat both the speeds and the costs of standard high-speed rails."